GETTING AROUND STROUD SAFELY
Please watch.
A short vidio by Stroud Chamber of Trade.
---
The Outdoor Market is back together again.
Food and non-essential stalls are back in the Shambles.
Social Distancing of 2m is still in force so please by aware and stay safe.
Not all the usual stalls will be in every week. Please check directly with the stall holder as to when they are booked in.
The Indoor Market is back open from
Every Fri & Sat as normal.
See under Indoor Market below for the new restrictions.
---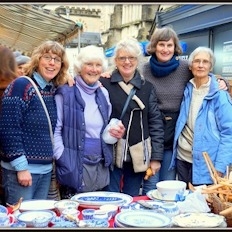 Those looking for Vintage Mary
Because of the space restrictions, they are coming back:
In the Shambles.
and every Monday.
They will be joined by
Roy's Watches - Batteries - Straps.
We have now done a NEW short video.
Looking behind the scenes at setting up the Market.
This is what we do every Friday & Saturday, throughout the year, regardless of the weather.
Shambles Market: Behind The Scenes.
We have created our own Channel on You Tube , so you can subscribe to see other short videos about stall holders, or events happening in the Shambles. Just search for Shambles Market Stroud.
---
Pitches Available on the Outdoor Market Fridays.
Contact Ken Stevens for details: 07515 392958.
---
In the Indoor & Outdoor Market we have regular stalls every week and stalls that come in once a fortnight, and once a month. There is something different every day the market is on, don't miss out by only coming on a Friday or just a Saturday, pop in both days to see the full range of stalls, and see what a wide range is on offer.